Synthesia AI is a powerful video generation tool that lets you create high-quality, personalized visuals. Since 2017, it's getting popular and has become a go-to choice for digital marketers. The platform lets users customize the background, lighting, and music to match the tone of the video. Such versatility and ease of use have earned Synthesia a good name in the AI video generation space.
With Synthesia AI, you can use an avatar to share your message. The best part is that there are a variety of virtual actors which you can choose to represent your brand or message. This way you can give a personal touch to your videos and can create compelling content.
However, like any tool, Synthesia AI isn't suitable for every use case. It can generate high-quality, effective videos but sometimes lacks professional touch. Also, the platform's virtual actors are unable to perform every action or gesture. So you may find it daunting to create an AI video that suits your script.
Kimp.io Review and Alternatives
So you are looking for a Synthesia AI alternative?
We feel you as there can be more than one reason for your decision. In this article, we have enlisted some of the best Synthesia AI alternatives. Each one of these is the most suitable option as a Synthesia AI alternative. So keep reading to know their perks and differences.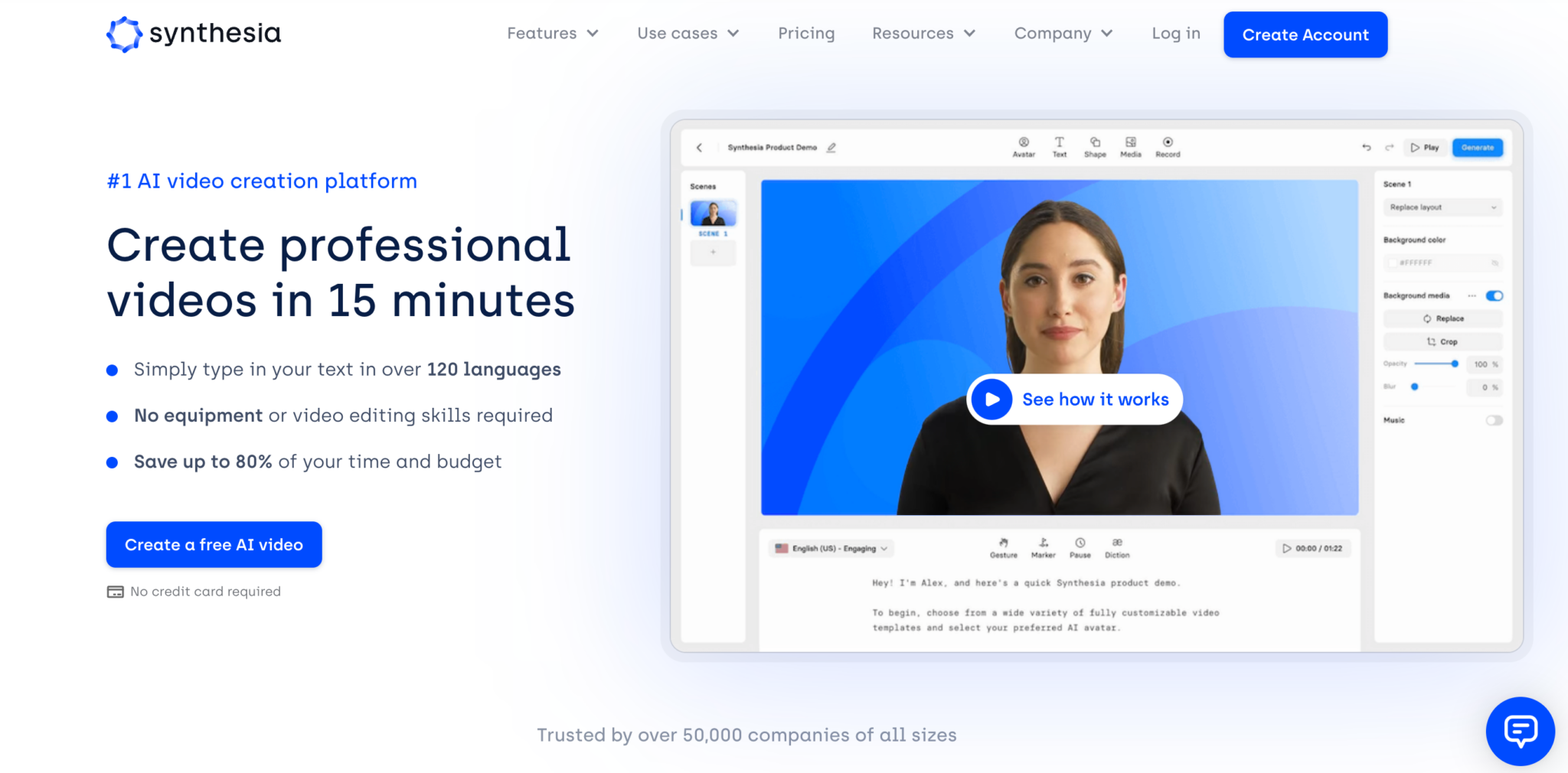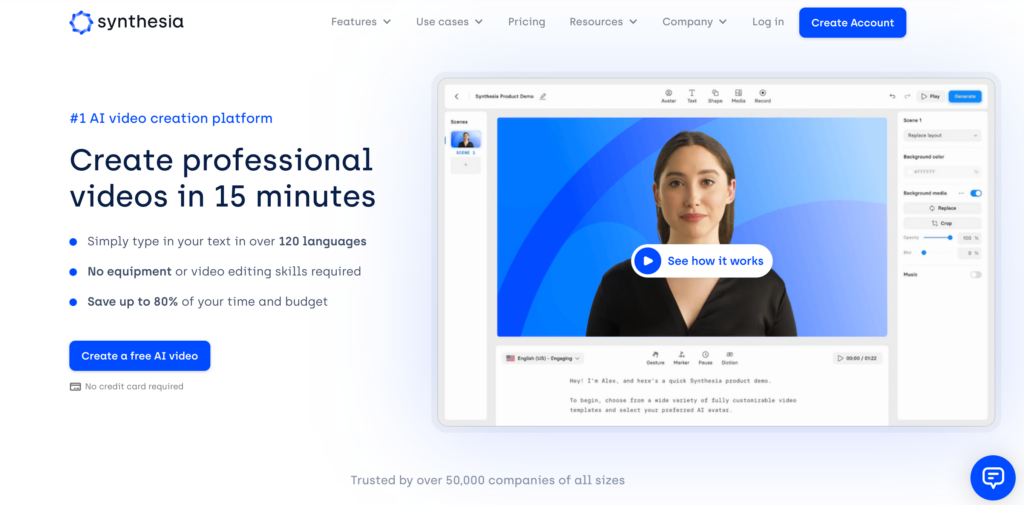 Rav AI – World's First AI-Based Video Editing Service
The AI-based video service, RAV.AI uses advanced machine learning algorithms to automate the video editing process. You can easily upload the raw footage on Rav.ai and specify your desired video style and length. After that, the platform uses AI algorithms to create a compelling yet creative video.
RAV.AI analyzes the raw footage, identifies the most interesting, and assembles them into a polished video. The video editing service uses relevant moments which users can also select by themselves.
Distinctive Features of RAV.AI
RAV.AI has several distinctive features that set it apart from other video editing services.
Automatic Video Editing Service
The biggest advantage of RAV.AI is perhaps its algorithms that analyze and understand video content. The tool automatically creates engaging and visually appealing videos. This means content creators don't have to waste time on traditional manual video editing.
Descript Reviews and Alternatives
Customizable Styles
RAV allows its users to specify the desired visual style and video length. The platform generates a video based on those preferences to meet your design needs. You can also provide feedback and make manual adjustments to fine-tune the final footage.
User-Friendly Interface
As an AI-based platform, RAV.AI is easy to navigate and user-friendly for newbies. It has a simple drag-and-drop interface where content creators can upload their raw videos.
High-Quality Output
RAV's AI algorithm is quite impressive considering other video editing software. The platform is capable of generating professionally edited videos that are visually appealing and engaging
Opinion
Overall, RAV.AI offers a unique solution for content creators who need video editing services. The AI-based tool automates the tedious and time-consuming task of video editing. If you are looking for a video editing software, RAV AI is the best option. However, it's not the ideal choice if you are looking to generate new videos using avatars and AI.
HeyGen (Previously Known As Movio.ai)
It's an AI-based video creation tool that lets you generate animated videos. You can use customizable characters and distinctive backgrounds after providing your script. The tool uses input text and selects characters from its extensive library as well as backgrounds, animations, and music.
HeyGen or Movio.AI has more than 120 avatars compared to Synthesia (100+). The tool also has "Mini lessons," and basic guidelines that educate first-time users. But the best thing about it is its API access that lets you create videos from scratch using templates.
In addition, you can generate AI-based videos in more than 20 languages. This simply means that you can address a global audience using the same video. Then there are auto-generated subtitles which further enhance the user experience making videos more compelling. You can also upload voiceovers and can use free stock music, videos and images.
Opinion: Synthesia Vs HeyGen
HeyGen is a good Synthesia AI alternative if you want to try a video creation tool for free first. You can generate Full HD videos in 1080p format from scratch. More importantly, the tool allows you to create videos using a PowerPoint or PDF document.
Rephrase AI – Text To Video Maker
One of the best Synthesia AI alternatives that are becoming popular is Rephrase.AI. It's a platform that generates videos by converting written content into video format. The platform uses advanced artificial intelligence (AI) to analyze the text and identify key phrases and ideas. It then creates a video script that can be used to create a customized video.
Rephrase.AI has pre-designed templates that you can use to create videos as per your needs. Like Synthesia, it also has an extensive media library which includes stock files. There's a full range of GIFs, stickers, music, videos, and images which you can use. These options further enrich the user experience and make it easier for users to generate compelling videos.
Text-to-speech voiceover generation and low video rendering time make Rephrase AI a suitable choice. The platform has limited avatars but they are enough to cover your needs. You can easily create a multi-character video for advertisement or storytelling purposes.
Opinion: Synthesia Vs Rephrase AI
Overall, both Rephrase AI and Synthesia are great video-generation tools. But text-to-speech voiceovers and text-to-video generation give Rephrase.AI an edge. So if you are a content creator or blogger, it's the best Synthesia AI alternative for your needs.
Pictory – Generate Videos From Text
Pictory.AI utilizes artificial intelligence to not only produce top-notch videos but also to assist with video editing. The best thing about it is that you don't require any technical expertise to create videos on Pictory. Simply input your script into the app and the AI video generator will do the work.
The platform offers access to more than 3 million images and videos that are free of copyright restrictions. This means that you can produce both original and on-brand content. In addition, you can transform blog articles into captivating social media or website videos. All you have to do is submit the URL of your post and the platform will create a video
Pictory offers a feature to summarize your written content as well. This allows the tool to extract the most significant sentences to generate the video. What's more intriguing is that you can utilize the drag-and-drop interface to review it. You can make any necessary modifications to the script as per your requirements.
Once you approve the script, Pictory's AI will match it with relevant visuals and videos. The tool uses its extensive media library to find and use the most suitable visuals. You can also modify the video by adding or removing scenes with Pictory's one-click interface.
Opinion: Synthesia Vs Pictory
Both Pictory AI and Synthesia are excellent for video creation. However, the former has an edge over the latter considering its text-to-video conversion feature. You can submit a script or blog post and Pictory will use the most relevant information to generate videos.
Elai – Ideal Synthesia AI Alternative
Elai.IO is another AI-based platform that enables content creators to generate customized videos. The tool has an AI presenter that uses text input to create compelling videos for almost every platform.
As a text-to-video maker, Elai provides you with more than 35 avatars. You can generate videos in full HD (1080p) as well as in Ultra HD (4K). Then there are selfie avatars and more than 50 pre-built templates that you can incorporate into your videos. But the best thing about it is its integration with the GPT-3 which further improves the use of AI.
Elai can also auto-generate subtitles and use PDF or PowerPoint documents to create videos. You can also use custom fonts to further personalize your video subtitles. Another good thing is its integration with tools such as Zapier, LottieFiles, Medium, Tolstoy, and Udemy. Furthermore, the platform allows you to integrate with other popular tools like 360Learning, Moodle, GIPHY Pexels, and Thinkific.
The tool also allows you to upload personalized voiceovers for better user engagement. In addition to this, you can use its custom music to make your videos more appealing.
Opinion: Synthesia Vs Elai
Both Elai and Synthesia are equally good and useful for content creators. However, as a Synthesia AI alternative, Elai is a clear winner among the rest. It has cool features and unique avatars to create high-quality, compelling videos. But when it comes to text-to-video generation and pricing, Elai is a better tool than Synthesia AI.
Hour One – AI Powered Video Generator
Hour One has revolutionized the creative process by providing users with complete creative control over their video content. The platform uses AI to generate videos that can be customized later as per the user's preference. So you can easily add your brand assets such as logos, font, and brand colors.
Hour One will integrate them into your video in real-time to help you send a strong brand message. In addition to this, the tool also has pre-made templates that will give your video the desired look.
However, the biggest advantage of using Hour One for video generation is time. All you need to do is provide input considering your needs and the software will take care of the rest. Hour One has more than 100 avatars which you can use as per your needs and video requirements.
The platform also supports more than 50 languages which is a big plus. This means that you can generate videos in almost all major languages to engage a wider audience.
Like Synthesia, Hour One also offers auto-captioning that makes it easy for users to generate captions. You can also enjoy additional features for auto-translation after subscribing to its premium plan. Then there are robust video editing features that will let you adjust your video's length, include a voiceover, and even include custom animations.
Hour One's AI technology can generate lifelike voiceovers that mimic human speech. This is a helpful feature that makes it easier to add voiceovers without hiring a voiceover artist. Moreover, you can generate videos in a variety of popular formats using Hour One. The platform offers support for 1080p, 4K, and even square format which means you can share videos on multiple platforms.
Another biggest advantage of Hour AI is its pricing which is cost-effective compared to Synthesia. The platform offers a free trial to new users and then there are three different pricing plans.
You can get the Lite package for $25 per month for 2 hours of published videos. Its Business plan offers 4 hours of published videos and costs $199. In addition, this is an enterprise plan that allows you to acquire a custom package for your video creation needs.
All in all, HourOne AI is more than just a video generator that comes with an all-in-one video editing suite. The tool is designed to make the video creation process as efficient as possible and streamlines the workflow. Its user-friendly dashboard is easy to navigate which makes video production smooth. Within minutes, you can produce videos for your social media channels, website, or email marketing campaigns.
Opinion: Synthesia Vs Hour One
Hour One is the only AI-powered video generator that goes neck to neck with Synthesia. It competes well when it comes to offering multiple avatars and gets an edge for the auto-captioning features. So if you are looking for a true Synthesia AI alternative, try the Hour One AI tool.
Final Thoughts
Hopefully, you've now found a better Synthesia AI alternative for your needs by now. All the AI video creation tools mentioned in this blog post are equally good. Of course, not all are equal and each has its pros and cons. But Elai and Pictory are the best Synthesia AL alternatives in terms of features. If you are looking for a better video editor, there is no better option than RAV.AI.