Pictory.ai is an innovative platform that allows users to create high-quality engaging videos using AI technology. The platform offers a wide range of features to create visually appealing content for multiple platforms. With Pictory.ai, users can quickly and easily create professional-looking videos without hiring a video editor.
Pictory leverages AI to suggest the best images and layouts for generating video content. It is a powerful tool for businesses, educators, and anyone looking to create compelling visual content.
But like any other tool or service, Picory.AI also has limitations. The tool has limited customization options that may restrict the level of creativity and flexibility.
In Addition, Pictory has limited audio editing capabilities and often the users aren't able to fine-tune audio levels. They cannot apply advanced audio effects to their content in order to make it more engaging. Then there are limited integration options with other platforms and software.
As a result, users often search for a Pictory.AI alternative to meet their needs. However, there aren't many Pictory alternatives available online for content creators. But there are some which have the ability to justify your needs. Let's take a look at some of the best Pictory AI alternatives that are available in the market right now.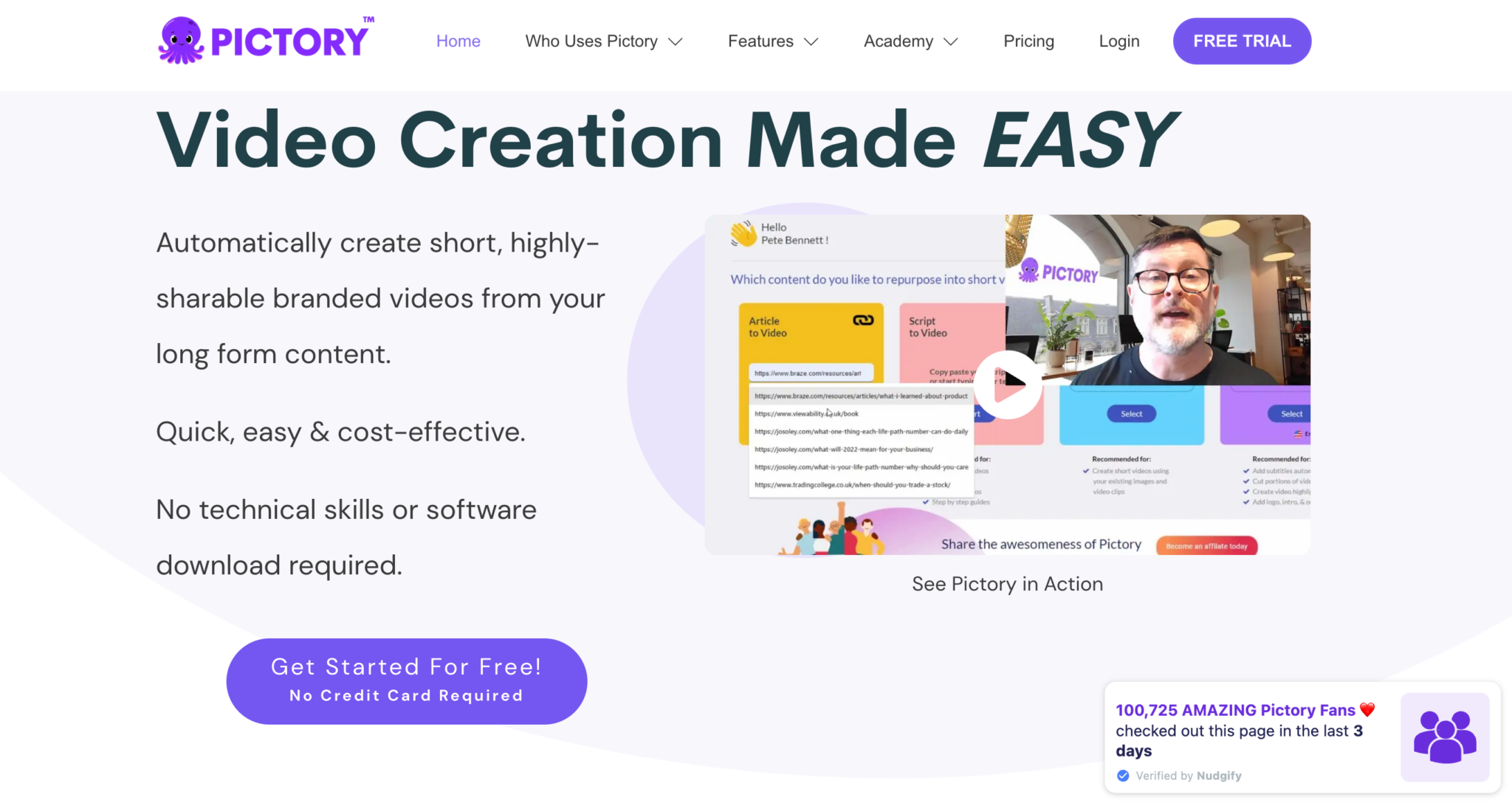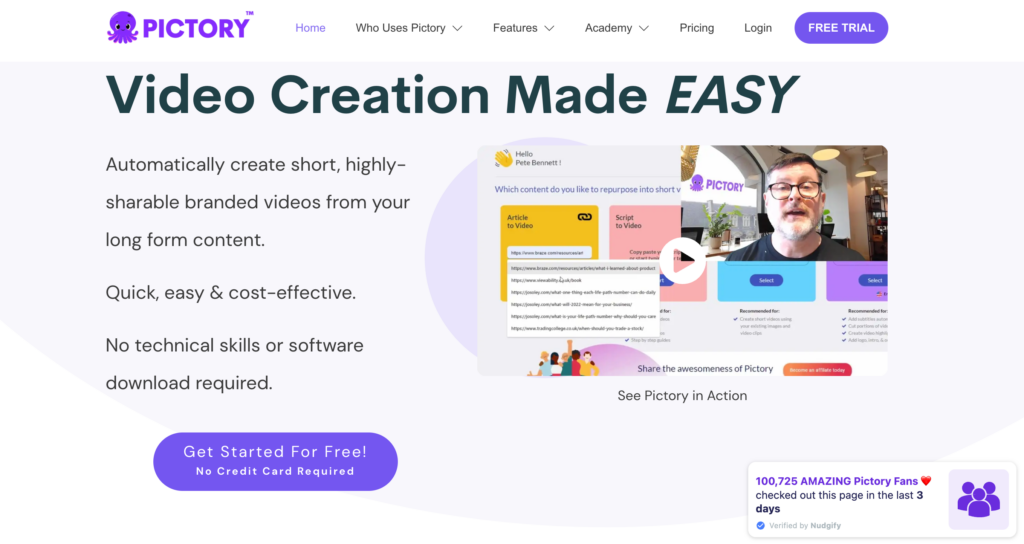 RAV.AI – Best AI Video Editor
RAV.AI is the world's first AI video creation platform that enables users to create stunning videos. With RAV, you can generate professional-looking videos without needing a professional video editor. It's an advanced platform that is easy to use without any prior technical knowledge.
The tool leverages cutting-edge AI technology to suggest images, layouts, audio effects and more. You can use this content for creating visually appealing content for multiple platforms. It also offers customization options so you can make your content unique and stand out from the crowd.
Some of the features offered by RAV include automated editing tools, automatic color correction, and text overlays with animation effects. The platform also supports 3D objects and animations and offers easy access to the royalty-free music library. You can also use its integration feature to connect it with other software applications like Adobe Premiere Pro.
Opinion: Pictory Vs RAV.AI
When it comes to creating visually appealing content, Pictory.AI and RAV.AI are both powerful tools with their own unique features. Pictory offers extensive features that allow its users to create professional-looking videos within minutes. But when it comes to professional editing, RAV.AI is a far better Pictory.AI alternative than any other tool.
Synthesia – Top AI Video Generation Platform
Another good Picory.ai alternative is Synthesia, an AI-based video creation platform. It offers an easy-to-use interface with a range of features to help users create stunning videos quickly and easily.
With Synthesia, you can choose from hundreds of images, layouts, and effects to generate videos. It also provides auto-chorusing and audio effects for better sound quality in your videos. In addition, it provides integration with popular video creation software like Adobe Premiere Pro, After Effects, and Final Cut Pro.
Unlike other video creation tools that rely on stock footage, Synthesia uses AI to create videos. The platform uses artificial intelligence to create actors and actresses that are closer to reality. This makes the videos more engaging and believable, helping to build trust and credibility with viewers.
Synthesia provides support to create videos in multiple languages. This means businesses and marketers can create localized content for their target markets. Additionally, Synthesia.AI's user-friendly interface makes it easy to customize videos with different backgrounds, props, and branding elements.
Kimp.io Review and Alternatives
Opinion: Pictory Vs Synthesia
Both Pictory and Synthesia are powerful tools for creating visually appealing presentations and videos. The choice between them ultimately depends on the specific needs and preferences of the user. Synthesia is better suited for businesses and marketers who require fast and cost-effective video creation with real actors. Also, it offers multi-language support and uses AI to animate the actors for providing a realistic touch to the videos.
Colossyan Creator – AI Video Generator for Beginners
Colossyan is a relatively new yet highly effective cloud-based video creation tool that uses Artificial Intelligence. The tool has the ability to generate video content for almost all marketing needs. You can use it to create AI videos for social media, product demos, and product reviews. It's the best AI content creation platform in the market right now for explainer videos.
The platform is a text-to-video generation software that provides results in more than 110 languages. Its AI engine analyzes the texts and then selects the appropriate visuals, images, and audio to create videos. What's more intriguing is that you can also customize each video.
You can instantly sign up for a free account, and start creating videos in three different ways. First is the automated video creation which only requires the script to generate videos. The second method involves using Colossyan's Video Builder, where you can select and edit video templates.
The tool also allows users to create videos from scratch as per their content needs. You can choose from different animations, fonts, and colors for text overlays to make the video more engaging.
Colossyan offers around 30 different avatars which you can use to create storytelling videos. You can upload voiceovers and the tool will do the auto-captioning for you. But the best feature of Colossyan Creator is auto-translation which you won't find in any other AI video generator. This feature not only allows you to translate text but also converts it to speech.
In addition, you will have an AI script assistant that you can use to further polish your text. AI prompt to video is an extraordinary feature that the platform has recently added. This allows the user to get a video draft after typing in a prompt. So even if you don't have a text or don't know how to write one, you can generate professionally edited videos.
Other key features of Colossyan include transitions, animations, PPT uploads and a screen recorder. With such intuitive features, you can easily generate videos on your own without prior editing experience.
Colossyan Creator has the ability to generate a 40 seconds video from scratch to finish in almost 9 minutes. The good thing here is the aspect ratios (16 x 9, 9 x16, and 1×1).
Descript Reviews and Alternatives
Opinion: Pictory Vs Colossyan
As a Pictory AI alternative, Colossyan Creator tops the chart considering its features. In addition to text-to-video generation, the platform offers AI assistance for script writing. You can type in a prompt to write the script and create your ideal video within minutes. Then there are additional aspect ratios, auto-translation, screen recording, templates, transitions, and more.
Elai – Automated Video Generation Platform
This is another Pictory.AI alternative that makes the case for itself. Elai is a platform that uses machine-learning algorithms to generate professional videos. It offers a range of features, such as automated voiceover, text overlays with animation effects, and 3D objects.
The tool also provides access to a royalty-free music library and automatic color correction. This allows users to create visually appealing videos within minutes without any prior technical knowledge. The platform has an extensive library of stock footage which you can utilize to create videos.
Elai is integrated with popular video creation software like After Effects and Final Cut Pro. So you can easily export your final project in different formats. It also offers integration with other platforms like Google Drive, Dropbox, and YouTube for easy sharing.
Overall, Elai.IO is a great tool for businesses and marketers that want to generate quick videos. Its automated features make it easy to create engaging, professional-looking videos without having any prior experience. The platform also offers extensive customization options so users can personalize their videos to fit their brand identity.
Opinion: Pictory Vs Elai
Both Elai and Pictory are equally good and useful for content creators. However, as a Pictory AI alternative, Elai is a clear winner among the rest. It has cool features and unique avatars to create high-quality, compelling videos. But when it comes to text-to-video generation and pricing, Elai is a better tool than Pictory AI.
Vidchops Reviews and Alternatives
Rephrase AI – Text To Video Generation Tool
Rephrase is an innovative text-to-video generation tool that uses artificial intelligence. The platform transforms written content into engaging videos within a few minutes.
The process of creating a video using Rephrase AI is simple and straightforward. Users start by inputting their text content, which can be in the form of a blog post, article, or any other written material. The platform's AI algorithms then analyze the content to extract key phrases. These phrases are then converted into visuals such as images, charts, and animations. After that, the tool automatically arranged a video template.
The best part is that the user can customize content with different colors, fonts, and music tracks. Other key advantages of Rephrase AI are its flexibility and versatility. The platform can be used to create videos for a wide range of purposes, including marketing videos, educational content, and social media posts.
Rephrase.AI also supports multiple languages, making it ideal for businesses and content creators. You can multilingual create videos to address a global audience. Another advantage of Rephrase AI is its affordability. Compared to traditional video production methods, Rephrase.AI is a cost-effective and efficient solution. You can create high-quality videos with minimal effort, without the need for expensive equipment, software, or professional video editors.
Rephrase AI also offers a range of customization options to suit different branding and messaging requirements. Users can customize the colors, fonts, and background music of their videos to align with their brand guidelines and messaging. This makes it easy for businesses to create videos that reflect their brand identity and values, while also engaging their target audience.
Opinion: Pictory Vs Rephrase
Overall, Rephrase AI is a powerful text-to-video generation tool as compared to Pictory.AI. It offers a range of benefits to businesses, marketers, and content creators. Its use of AI technology, flexibility, affordability, and customization options make it a compelling option. All in all, it's a better Pictory.AI alternative for anyone looking to create engaging and effective multimedia content.
Flocksy Reviews And Alternative
Lumen5 –Ideal Pictory AI Alternative
Lumen5 is a cloud-based video creation platform that allows users to produce high-quality videos. You can generate videos for various purposes such as marketing, social media, education, and more. It's a user-friendly tool that utilizes artificial intelligence (AI) technology to automate the video creation process.
Lumen5 offers a variety of features including an intuitive drag-and-drop interface. This feature allows users to easily add and arrange images, video clips, text overlays, and other media elements. Additionally, the platform offers a vast library of royalty-free media assets. You get free access to images, videos, and music tracks that can be used to enhance video quality.
One of the standout features of Lumen5 is its AI-powered text-to-video technology. This feature enables users to create videos from blog posts, articles, or any other written content automatically. The platform's AI algorithm scans the text and generates video content based on the keywords, phrases, and ideas present in the text. This makes it incredibly easy for content creators to repurpose their written content into engaging video content.
Another impressive feature of Lumen5 is its automatic video cropping technology. This feature allows users to quickly and easily resize their videos to fit different aspect ratios. You can resize your videos in square, vertical, or widescreen formats.
Lumen5 also offers a range of customization options, allowing users to add their own branding elements. You can add logos, colors, and fonts to your videos as per your requirements. Furthermore, its pre-designed templates make it easy to create professional-looking videos in just a few clicks.
Opinion: Pictory Vs Lumen5
Overall, Lumen5 is an excellent video creation platform and a good Pictory.AI alternative. Its AI technology, drag-and-drop interface, and customizable templates make it a user-friendly option. Whereas the automatic video cropping and text-to-video features set it apart from other video creation tools.
Final Thoughts
Finding a good Pictory AI alternative is a daunting task in 2023. There are so many AI video generation tools and some are really good as text-to-video platforms. However, each platform comes with some benefits and cons as no two software are built equal. The above-mentioned tools are the best Pictory.ai alternatives on any given day. You can use them to generate videos from scratch for multiple platforms.